#HugOurTree is an environmental NGO committed to  changing the way communities interact with our planet – Bringing Green Mainstream – promoting awareness through  green-related  environmental and sustainability projects.
We are involved with every segment of the community including government agencies, corporates, NGOs,   homeowners, schools, marginalised groups, community gardens and wildlife habitats to proliferate planting, to encourage biodiversity and to promote a love of nature.
Humanity is facing a serious deterioration of nature and our climate, with severe consequences for life on Earth, including our own. All of us  are part of nature and our fate is inter-connected.
Time is really running out. We must conserve the world's forests to sustain nature's diversity, benefit our climate and support human well-being.
Sir David Attenborough recently launched a film at 93 years – A Life on Our Planet – his personal witness statement on climate change and his vision of the future. The story is about how we made climate change our greatest mistake and how if we act NOW, we can yet put it right.  
He urged individuals to stop waste of any kind, to stop wasting power, stop wasting food, stop wasting plastic; and to celebrate this precious world and cherish it.
"This is the last chance. This is not only a long-term problem, it is the biggest problem humanity has ever faced. 1.5°C (34.7°F) above pre-industrial level is the absolute 'red line in the sand' when a series of one-way doors start to close."
            Sir David Attenborough
2021 will be the crunch year for tackling climate change. Carbon Brief's analysis for the IPCC's 2021-2022 Assessment Report revealed that our world will likely exceed 1.5°C (34.7°F) between 2026 and 2042 (central estimate 2030 and 2032). Events are occurring to amplify warming. 2026 is in less than 5 years. 
Now, is the time to activate the activist inside each and every one of us. If we can activate ourselves and everyone to shift to a low carbon lifestyle plus support movements  to do the right thing for biodiversity and social and environmental justice, we might just salvage our planet for our children and grandchildren. 
Our immediate objective is to build a future in which both people and nature thrive. #HugOurTree works to conserve and restore biodiversity, the nexus that supports all life on Earth; to reduce humanity's environmental footprint; and to ensure the sustainable use of natural resources to support current and future generations.
#HugOurTree envisions a world where communities and countries sustainably manage their forests and natural resources for the common benefit of our climate, the environment and humanity.
#HugOurTree strives to empower communities to sustainably advance and implement innovative, scalable and lasting solutions to greening landscapes. Our mission is to build a future in which both people and nature thrive.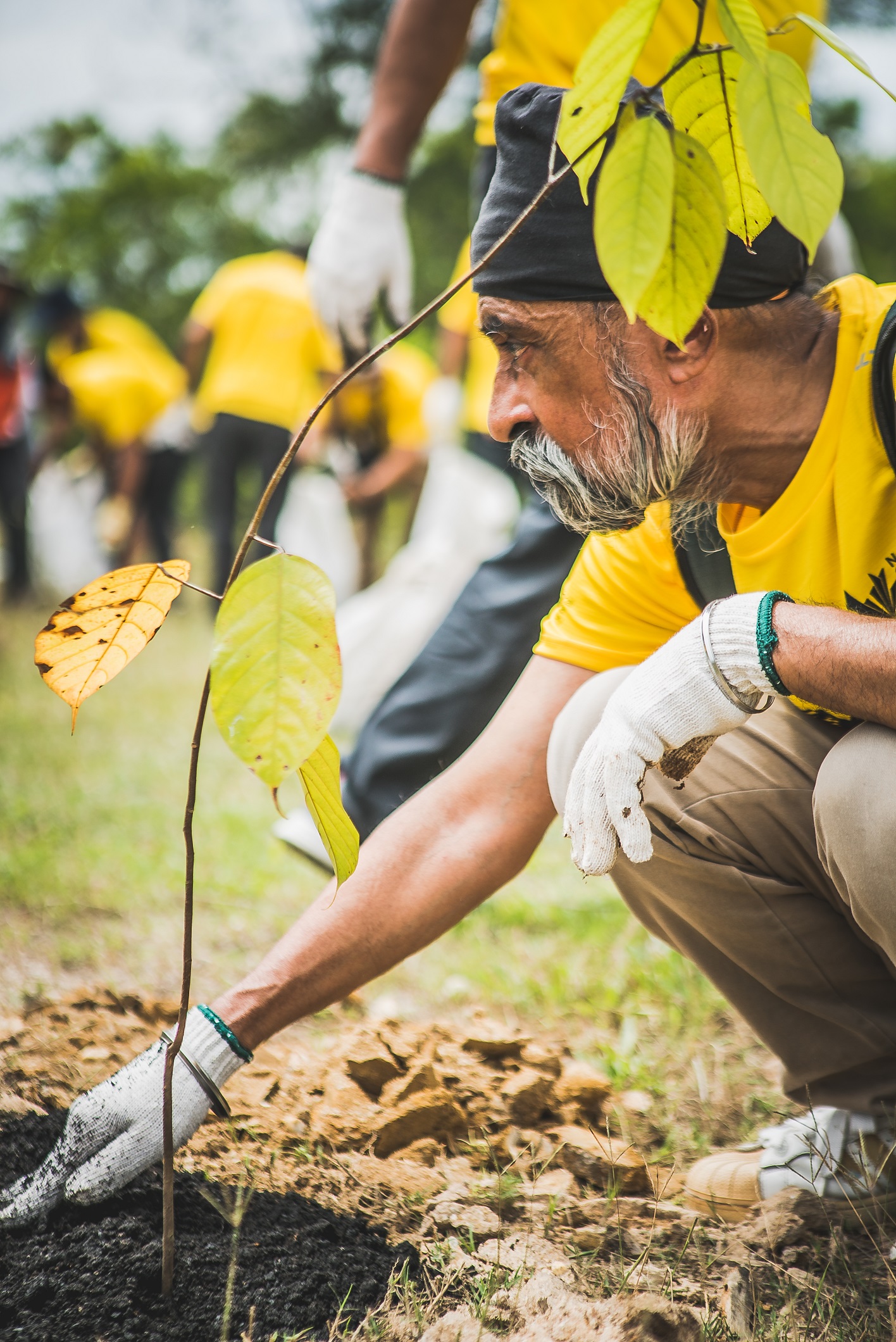 Our Values
Passion: 

We display the utmost passion and determination through our actions. We steadfastly work for change where it's needed. We inspire people and institutions to tackle the greatest threats to nature and the future of the planet, which is our home.
Admiration: 

We respect the voices and rights of nature and people. We work to secure a sustainable future for both.
Integrity: 

We act with integrity, accountability and transparency.
Partnership: 

We deliver impact at the scale of the challenges we face through the collective power of partnership and innovation.
We're committed to walking the talk on carbon neutrality through sustainability practices and empowering people to preserve, conserve and save our environment.
We collaborate, restore, improve livelihoods, and measure our impact. It's not about just planting trees. It's about the overall result for the environment and for the people who live there. Regaining ecological integrity to enhance human well-being is key to ensure the forest will be protected for the long term.
Our Collaborative Partners
#HugOurTree is in a strategic alliance with Rotary International, a global service organisation operating in over 120 countries, with a strong focus on promoting environmental sustainability, awareness of climate change, and actions to reduce greenhouse gas emissions and to mitigate climate disruption. Our local partners include Yayasan Kelab Kelab Rotary Malaysia, Rotary District 3300, Rotary and Rotaract Clubs, Environmental Sustainability Rotarian Action Group (ESRAG) and District Action Group on Environmental Sustainability (DAGES).
The Rotary Peace Park Malaysia@ Off River Storage (ORS), Bestari Jaya, Selangor (formerly Batang Berjunta) was launched in 2019 in collaboration with    Lembaga Urus Air Selangor (LUAS). 
This is a case-study park sitting on a former tin-mining land with a long-term project focusing on afforestation, environmental conservation & education, water resource protection and socio-economic development of rural communities. Tree-planting activities have commenced at the Rotary Peace Park.
#HugOurTree promotes the implementation of United Nations instruments and global goals on environmental issues, sustainable development, climate change, and responsible consumption and production.
HugOurTree is registered with Malaysia's Registrar of Societies (ROS) as Pertubuhan Pengasih Pokok, a cause-based environmental Non- Governmental Organisation (NGO)
PPM-011-10-22062021
Given our  highly seamless, interconnected and prolific-changing world, with air travel, wildlife marketing and a changing climate, the potential for  more serious outbreaks than Covid-19 remains a major threat.
It is human activity – not nature – that causes pandemics. It is also human activity that can save us. We are the solution.
Nature doesn't need people. People Need Nature.
Trees don't need us. We need trees.
Sir Jonathon Porritt, author of Hope in Hell – A Decade to Confront the Climate Emergency, tells us that changing our lifestyles is no longer enough. We have gone over the dreaded tipping points and massive global action is needed if we are to keep the global temperature from spiking to 1.5°C (34.7°F) above pre- industrial levels and higher this decade. He believes getting it right in 2021 means that 2030 will be relatively hopeful for a stable future.
In order to stay below a temperature rise of 2 degrees, we need to remove the excess carbon from our atmosphere. A simple nature-based solution exists of which #HugOurTree is a strong advocate.
Contact Us
Address:
58-B, Jalan 1/2, Kawasan Industri Rawang Integrated,
48000 Rawang, Selangor
Email:
HugOurTree@gmail.com
Mobile:
+60192719209